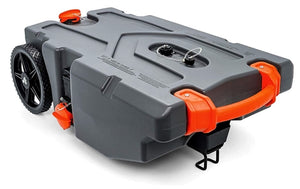 The Sintron 39006 Rhino Portable RV Holding Tank allows you to easily empty your gray and black waste tanks and transport to a dump station without ever having to move your RV or trailer.
Heavy-duty no flat wheels with bearings allow for smooth transporting even over the toughest terrain.
Rolls easily like a suitcase.
Heavy-duty oversized handle for easy pulling, towing or lifting.
Can be towed using a golf cart or other vehicle at slow speed.
Inside of the tank is sloped toward the drain hole for easy emptying.
Easily emptied using a built-in gate valve.
Integrated tank rinser makes it easy to clean inside (fits any standard size garden hose)

Backflow preventer and multi-directional spray help clean the tank's interior walls.

Smooth interior won't trap odors or debris.
Leakproof and UV protected.
Includes everything needed to clean, maintain and store your portable holding tank when not in use.
Built-in ladder hook allows you to clamp to your RV or camper ladder when not being used.
The tank is built from durable blow molded, UV stabilized HDPE (high-density polyethylene).
Distance from top of the fill port to the ground: 14".
Base dimensions of front foot/ladder hook: 5" x 3".
Hook dimensions: 2.5" wide.
Dimensions (without wheels): 36.5" x 20" x 9.5".
Weight: 40.5 lbs.
Includes a 3 ft RhinoExtreme sewer hose with bayonet and lug fittings, a 15" water hose rinse adapter, a clear elbow with 4 in 1 adapter, a clear double bayonet elbow, 3 storage caps, and 2 caps with lanyards for rinse connections, steel tow adapter, and TST orange drop-ins.
Limited 2-Year Manufacturer Warranty.
Made in the USA.