Overview
This listing is for an [Sintron] Uno R3  + Ethernet Shield W5100 + USB Cable + Reference PDF Files for Arduino's IDE
with this product, you are able to use all the Arduino open source platform to create or learn interactive objects, it will be a lot of fun while you are creating and learning it, so just get this and start it, we also provide reference pdf files that can help you to improve skills very quickly. After all, time matters, the sooner you can improve your programing skills, the sooner you can create amazing projects!
---
The Arduino Ethernet Shield connects your Arduino to the internet in mere minutes. Just plug this module onto your Arduino board, connect it to your network with an RJ45 cable (not included) and follow a few simple instructions to start controlling your world through the internet. Allows you to connect your Arduino UNO 328 or Mega 2650 1280 to a network or the internet AND retrieve or store files on a Micro SD Card.
The module carries an onboard WIZnet W5100 Ethernet chip, which provides a network (IP) stack capable of both TCP and UDP, as well as a standard RJ45 Ethernet jack.
For more information here: Sample code, Ethernet library.
This is with very good quality, if customer is not satisfied, we guarantee 100% money back.
For more data, you can check the official website below: Arduino IDE.
 
Features
UNO R3:
(1)Replace 8U2 with Atmega 16U2 chip, which means higher transfer rate and memory.
(2) No drivers required in Mac and Linux systems. (IDE driver needed in windows system)
(3) SDA and SCL interfaces added.
(4) Support ISP download function, Atmel Atmega328 microprocessor controller used.
 
Ethernet Shield W5100: 
(1) Wiznet W5100 ethernet chipset.
(2) TCP/UDP stack.
(3) Rev. 3 pinout with SDA/SCL/IOREF/extra pins.
(4) Supports 4 simultaneous socket connections.
(5) Houses a standard RJ45 ethernet cable jack.
(6) Has an onboard microSD card slot.
(7) LED indicators for Power, Link, Full Duplex, 100M connectivity, Tx/Rx, and Network Collisions.
(8) Reset button  resets both the W5100 and main Arduino / Freeduino motherboard.
Tech Specifications
UNO R3:
(1) Microcontroller: ATmega328 
(2) Operating Voltage: 5V 
(3) Input Voltage (recommended): 7-12V 
(4) Input Voltage (limits): 6-20V 
(5) Digital I/O Pins: 14 (of which 6 provide PWM output) 
(6) Analog Input Pins: 6 
(7) DC Current per I/O Pin: 40 mA 
(8) DC Current for 3.3V Pin: 50 mA 
(9) Flash Memory: 32 KB (ATmega328) of which 0.5 KB used by bootloader 
(10) SRAM: 2 KB (ATmega328) 
(11) EEPROM: 1 KB (ATmega328) 
(12) Clock Speed: 16 MHz
Ethernet Shield W5100: 
Hardware Controller: Wiznet W5100 Ethernet controller
Socket: HR911102A RJ45 Socket
Supports:Both TCP and UDP Connections
Supports: 4 simultaneous socket connections
Card Slot: MicroSD Card Slot
Connection speed: 10/100 Mbps
Uses digital pins: 10, 11, 12, and 13 (SPI)
Operating voltage: 5V
Ethernet library
Arduino communicates with the shield using the SPI bus. This is on digital pins 11, 12, and 13 on the Uno and pins 50, 51, and 52 on the Mega. On both boards, pin 10 is used as SS. On the Mega, the hardware SS pin, 53, is not used to select the W5100, but it must be kept as an output or the SPI interface won't work.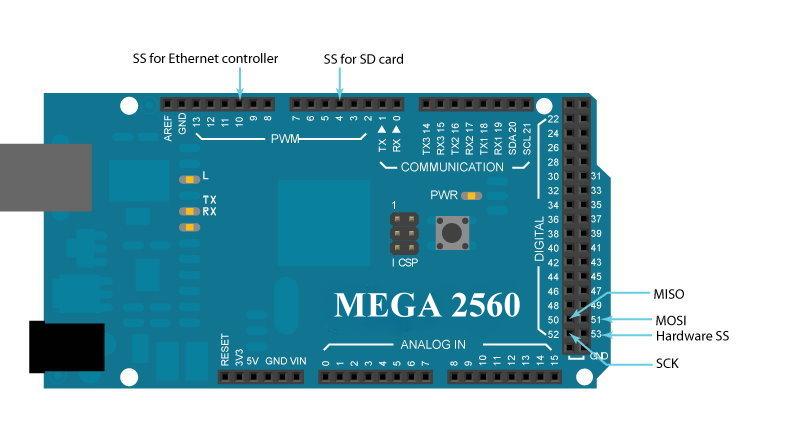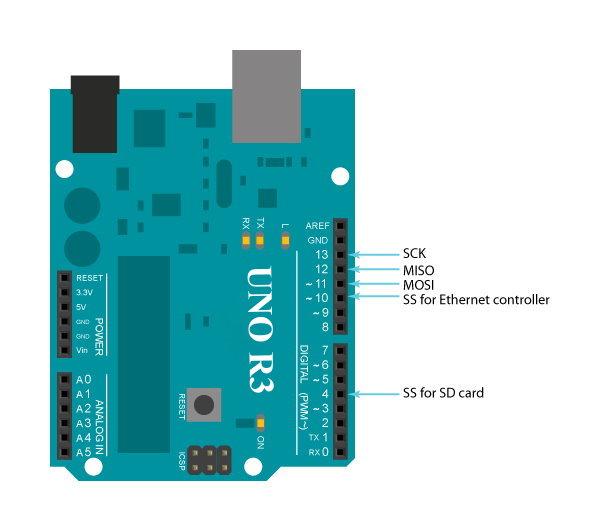 Uno R3 Pinout Diagram
Package list
Arduino-Compatible Uno R3 board x 1
USB Cable for Arduino Uno R3 x 1
Ethernet Shield w/MicroSD Card Reader x 1
For electronic parts, you can also check our store maker-diy.com